The Shops at Crystal City
Partner Spotlight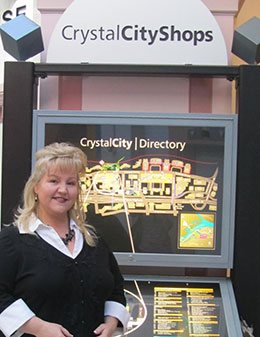 Brenda Davis, Director of Retail Marketing
These days, it's a tough market for recent graduates to find a job. Brenda Davis was fortunate because she not only landed a job right after graduating from George Mason University but is proud to say, after 15 years, she is still with the same company.
"Yes, this was my first job out of college," said Davis, who has been promoted since then and is currently the Director of Retail Marketing for Vornado/Charles E. Smith, the real estate firm that owns The Shops at Crystal City. "And I can add that I've certainly seen a few changes in that time."
Changes and continual improvements that have made this popular urban village a prime example of why a variety of convenient transportation options combined with shops, restaurants, offices and residential homes make this ideal for a car free lifestyle.
With her office right near the Marriott Gateway tunnel, which links the hotel to the various shops and Metro station, Davis describes her work environment as "its own little world" surrounded by booming businesses and many healthy activities to choose from.
In addition to its close proximity to Metrorail, Metrobus, and ART bus options, The Shops are very bicycle friendly. They offer bike racks inside the garages--something regular commuters appreciate, especially as the weather changes. And as a Capital Bikeshare partner, The Shops offer riders access to 110 bikes and 14 stations located throughout the Greater Crystal City Area.
Davis also mentioned that Revolution Cycles offers attractive bicycle rental packages for residents, business employees and visitors. They offer flexible bicycle rental options (by the hour, day, 3-day and week). Many co-workers like to take advantage of a lunch-time spin. Speaking of lunchtime activities, in addition to dining out, there is also the opportunity to, "find your inner balance" at the Yoga Studio.
Going back to her "little world" reference, Davis notes, "This [healthy activities] is just so convenient for employees." Maintaing a healthy lifestyle is easier for employees when there are so many easy accessible options.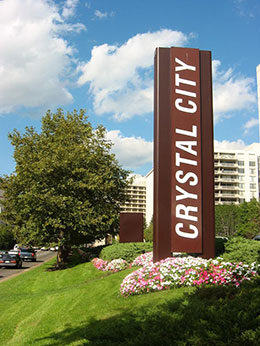 "We have two health clubs, Sport & Health at Crystal Park and Crystal Gateway Sport & Health, and some employers offer a corporate discount."
Reflecting over the past 15 years and cultivating a healthy environment made Davis recall one of the changes that happened in 2004 that has had a positive impact on The Shops. That's when the Marine Corps Marathon course was changed to include Crystal City.
"I had watched [the race] as a spectator in Rosslyn," recalled Davis. "And we thought it was such a positive event with all the runners and wheelers, we wanted to support it." They worked with the race organizers who re-routed the 26.2-mile course so it would include Crystal City.
For out of town runners and their families, Crystal City is an ideal place to stay since they offer convenient transportation to and from the race, an ideal Car-Free Diet option. Crystal City offers a family-friendly festival with live music, restaurant tastings, an art market and plenty of kid-oriented activities.
"I still stand out in front here and cheer for everyone," said Davis.
While that is one running event, come springtime the local Pacers running stores host a series of Friday night 5K races in Crystal City. This past year they boasted more than 1,000 participants per race. It was a win-win partnership with people doing a healthy activity and supporting the local businesses.
Crystal City Shops
Transportation Options