Tortas y Tacos la Chiquita
Juan Carlos Saenz, Manager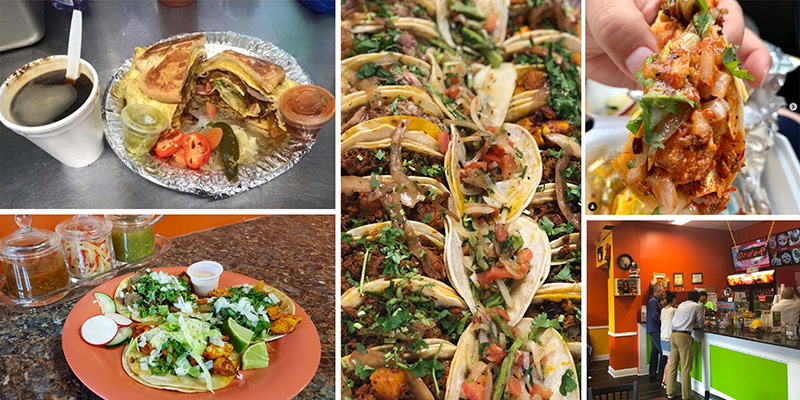 Back in 2016, Tortas y Tacos la Chiquita started as a food truck in the Food Star parking lot along Columbia Pike, now Harris Teeter. Manager, Juan Carlos Saenz says that in three years the food truck was over capacity with a strong customer base. Consequently, the owner, David Villalobos, initiated the search for a permanent site. The restaurant is located along the bustling Columbia Pike, right next to the Arlington Cinema and Drafthouse. The taqueria operates 24 hours a day with their busiest time from 10 p.m. – 3 a.m. This location seats 35 and is often at capacity. Due to the Columbia Pike location's popularity, they opened another location nearby (Merrifield) Falls Church.
The restaurant serves authentic Mexican food including tortas and tacos. A torta is "the traditional Mexican sandwich" and there are several options on the menu. One that stands out is the torta cubana. It comes with sausage, egg, carne asada, sausage, lettuce, tomato, avocado, mayo, queso fresco and mozzarella — served on French bread. You'll want to try traditional Mexican tacos such as lengua (cow tongue), cabeza (beef head), cuerito (pig skin) and a top seller — birria. Birria is a full-of-flavor beef stew that is first marinated and cooked down. The tacos are served with the leftover broth, meant for dipping. Another popular dish is the shrimp quesadillas. Cow tongue not your style? Don't worry, they have beef, chicken, and pork (barbacoa) tacos as well.
Because of its location, Tortas y Tacos la Chiquita gets a variety of customers like military personnel from the nearby Pentagon, locals from the neighborhood to passersbys who are visiting along the Pike or coming to a show at the Cinema next door. Given its prime position, there are numerous public transit options with ART & Metrobus, scooter, bike and walking. Of the 18 employees, most take the bus due to the convenience and location. Plan your travel options and stop into this family-friendly taqueria, at any hour!

Tortas y Tacos la Chiquita
2911 Columbia Pike
Arlington, VA 22204
Go car free to Tortas y Tacos la Chiquita
Arlington's Bicycle & Pedestrian Counters
Bikes counted
View Counter Data
110 Trail

155

14th Street Bridge

347

Arlington Mill Trail

61

Ballston Connector

0

Bluemont Connector

77

CC Connector

128

Clarendon EB bike lane

94

Custis Bon Air Park

177

Custis Rosslyn

264

Eads NB

21

Eads SB

53

Fairfax EB bike lane

54

Fairfax WB

55

Joyce St NB

18

Joyce St SB

0

Key Bridge East

348

Key Bridge West

272

Military NB bike lane

11

Military SB bike lane

11

MVT Airport South

337

Quincy NB bike lane

34

Quincy SB bike lane

45

Roosevelt Bridge

0

Rosslyn Bikeometer

492

TR Island Bridge

193

WOD Bon Air Park

0

WOD Bon Air West

0

WOD Columbia Pike

176

Wilson WB bike lane

77
Peds counted
View Counter Data
110 Trail

294

14th Street Bridge

120

Arlington Mill Trail

6357

Ballston Connector

863

Bluemont Connector

791

CC Connector

339

Custis Bon Air Park

413

Custis Rosslyn

339

Eads NB

0

Eads SB

0

Fairfax WB

0

Joyce St NB

28

Joyce St SB

0

Key Bridge East

1423

Key Bridge West

494

MVT Airport South

217

Roosevelt Bridge

0

TR Island Bridge

547

WOD Bon Air Park

0

WOD Bon Air West

0

WOD Columbia Pike

334
All counters, YTD
View Counter Data
Year to Date

6060586