Trade Roots
Partner Spotlight
Lisa Offstroff, Owner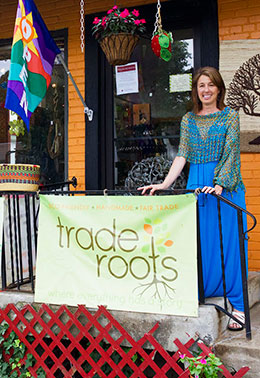 Last October, Lisa Ostroff leveraged a background in international relations and non-profit management along with an interest in social entrepreneurship to create her new shop, Trade Roots. A long-time fan of fair trade shops, Ostroff leaped into action last fall after seeing a "For Lease" sign on the building previously occupied by Arax Cafe. Two weeks later, she was in business, helping to promote culturally diverse, eco-friendly and hand-made products.
Ostroff carries unique and exceptional products, including jewelry, accessories, and home wares, which come from all over the world. However, what sets Trade Roots apart from similar stores is the designation "fair trade." This indicates that a product was crafted by artisans who are paid premium rates (versus minimum rates) for their creativity and labor, ensuring them a comfortable lifestyle and the ability to reinvest in their own communities. "It's a win-win," Ostroff says. "Not only for the artisans, but for Arlington as well, because there wasn't anything like this here in our community before we opened."
While customers often come to browse, many arrive with a purpose. "This really is a one-stop shop for items from every country that I've traveled to and love," says Dawn Scalia, a regular patron. "I came in the first time because I needed to replace my favorite salad tongs from Ghana. I keep coming back because it reminds me of where I've been and the people I knew there." Hearing this, Ostroff beams. "That," she confirms, "is why I went into business."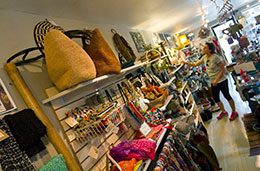 Westover is a highly walkable neighborhood with extended transportation options coming July 1. Foot traffic is important to Ostroff who says that, "Most people who come to the store are out walking around anyway." Ostroff is looking forward to Capital Bikeshare expansion to her neighborhood as well as new bus routes that would bring her customers to her front door. Personally, Ostroff enjoys getting to work on foot whenever possible, usually bringing along her dog, Riley, who doubles as the store mascot.
Trade Roots
5852 N. Washington Blvd., Suite 2
571.335.4274
Transportation Options