Twins ACE Hardware
Jeff Smith, Owner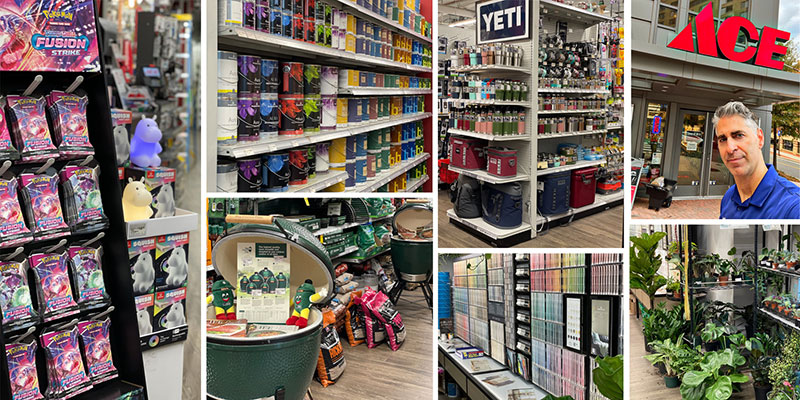 Counting nuts and bolts has its benefits. That's how owner Jeff Smith started, by working in one of the area's oldest local hardware stores. He was drawn to the work because it is multifaceted and you're never bored working in a hardware store. Then in November 2016, Jeff and his twin brother had the opportunity to open their own store. Jeff owns Twins ACE Hardware in Clarendon and his brother has one in Fairfax. He has always been drawn to Arlington because of its diversity of people and its neighborhoods. As the slogan indicates, it's nationally known but locally owned. His Clarendon location is in a dense area where he recognized a need for a hardware store. While you'll find typical items like a hammer, nails and paint — you'll also discover other interesting items such as plants, the Big Green Egg and even local homemade soap. Jeff notes one gentleman who comes by bike, always gets the whoopee pie. Plants are a big seller and his customers appreciate the variety he keeps in the store. In the spring and summer, you'll find plants out on the sidewalk. For younger shoppers who may not know how hardware stores used to be, Jeff draws from his days at Strosniders (a local store in business since 1953) and tries to stock with local items and recreate that local corner store feel.
During the pandemic, like many other businesses, he experienced difficulty in keeping items stocked but wanted to support his local community. Again from his previous local hardware store experience, he used his contacts to secure high-demand items such as toilet paper, propane heaters and hand sanitizer. He even donated supplies to local organizations such as AFAC and Arlington Free Clinic.
With 15 employees, Jeff boasts that an impressive 80% of them use public transit, walk or bike to get to work. Jeff will sometimes use the Metro, which is only two blocks away. Surprisingly, only three or four of them drive their vehicles to work. Several bus lines pass directly in front of the store and there's a Capital Bikeshare station only a block away along the bike lane.
Twins Ace Hardware
Clarendon Blvd.
2001 Arlington, VA 22201
Go car free to Twins Ace Hardware