Virginia Hospital Center
Partner Spotlight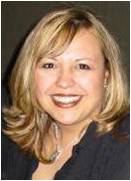 Rita Jensen-Jaouhari, Assistant Director of Human Resources
First impressions are important. If you look at the mission statement for the Virginia Hospital Center you'll read: "To Be the Best Hospital." Wanting to be the best is good, right? Along with that are a few vision statements that include: "invest in the professional growth and development of our people; manage our resources prudently; and serve the health care needs of our community."
Rita Jensen-Jaouhari, the Assistant Director of Human Resources, is enthusiastic about the Car-Free Diet and how it works in concert with the hospital's mission statement and vision. She also understands that first impressions are important which is why they have the Car-Free Diet brochures not only in the main lobby but also in key areas throughout the hospital.
"We have three major lobbies and we get a lot of traffic coming through here [Human Resources office] so we try to pick the busiest areas," she said.
As a partner, Jensen-Jaouhari appreciates not having to refill the brochure stands. "Staff from Car-Free Diet always comes around to fill the displays when they run out," she said.
The Human Resources office is the initial stopping spot for new employees and where they get their first impression of the workplace environment.
"We helped develop a flyer for new employees that gives a nice overview of commuter options in the area," and she added, "Our employees can get a personalized transit route, we do a nice segment."
The flyer gives the essentials on the ART bus, carpooling, biking, Personalized Commuting Options, Metro Station map and notes Ballston as the closest stop. They also include the "Go Green with Arlington Transit" flyer.
Reducing carbon emissions and traffic congestion is certainly a goal for Car-Free Diet partners. Jensen-Jaouhari explained that non-RN clinical employees can't park at the hospital; they have to park at Carlin Springs. The hospital provides a shuttle bus that runs from 6:00 am to 9:00 pm. This results in a reduction of traffic congestion and parked cars around the hospital. She has heard from employees who say they have gotten to know each other better during the shuttle rides; hence, fostering better work relationships.

"It's a win-win for everyone, plus, it reduces the congestion and emissions," she noted.
In an effort to promote car sharing and carpooling they help put staffers in touch with one another. "We try to pair people up and encourage them to share rides."
Mention bikes and Jensen-Jaouhari is quick to note that several physicians regularly bike to work. Last year they had a team participate in "Bike to Work Day" organized by one of the hospital pharmacists. "We promote special events such as, 'Bike to Work Day.' We set up web blasts to encourage staffers to participate."
One of her projects this coming year is a wellness program campaign that would include walking and lifestyle incentives. In addition, they plan to conduct a survey in November.
"We want to see how we can improve our transportation benefits. We want to know what the employees' commuting needs are now and how we can fill in the gaps and offer incentives." Incentives include a tax-free program to purchase the transit fares.
Jensen-Jaouhari, who spends much time making sure employees are content, discussed her own walking program and how it worked best when she convinced some co-workers to join her.
"We'd buddy up with each other," and then she laughs, "We have to get off our keisters, too!"
During her pregnancy, walking was a welcome midday reprieve. "We have beautiful grounds here and the neighborhood is a little bit hilly." She always knew it was beneficial to get in some cardio exercise and had extra motivation. "There are a lot of studies that say walking helps you for your delivery." During that time [her pregnancy], she tried to walk at least three times a week.
The discussion of walking led to an idea she read about in a book about winning health promotion strategies: instead of having a meeting with everyone sitting around a table, why not conduct a meeting in a room with treadmills set up in a circle? Everyone could walk for as long as the meeting lasted. Is this something you could see implementing at your business?

Virginia Hospital Center
1701 N. George Mason Drive
Arlington, Virginia
Transportation Options