Which Wich
Partner Spotlight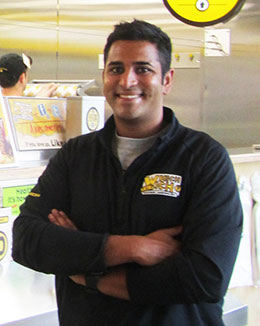 Faisal Lalani, Owner
Partners Faisal Lalani, Irfaan Lalani and Shalin Patel - two brothers and a good friend - opened
Which Wich Superior Sandwiches in May at Ballston Point. This is the latest in a long list of businesses this partnership owns, including 40 Little Caesars pizzerias and a Pinkberry.
Which Wich, a global brand based in Texas with over 300 locations, offers over 50 varieties of customizable "wiches." First-timers are guided to the "bag bar" where guests use a marker to check off their selections on the pre-printed brown sandwich bags. Starting with the type of sandwich, patrons proceed through a wide array of options, from type of bread, size, cheese, spreads and vegetables. There are virtually unlimited combination possibilities, including low-calorie, vegetarian and gluten-free.
If dozens of choices are too confusing, a menu board of bestsellers will give you some good ideas. Consider, for example, the meat-and-cheese-loaded Ballston-favorite, Wicked sandwich, or Buffalo Chicken & Avocado Wich. Milkshakes and home-baked cookies round out the menu.
"Aside from popular sandwiches, the most unexpected part of business in this area is the amount of treats that we sell," said Faisal Lalani. "I guess everyone wants their mid-afternoon cookie or shake, and we do make some great ones!"
The brothers and Patel have fond memories of Which Wich from their undergrad days. Says Lalani, "It was one of our favorite places to eat, and once we were out of college we began watching Which Wich closely to see if there could be an opportunity to work with them. It's just a really great company." Fast forward several years later and the trio decided to expand their pizzeria business with the innovative customizable sandwich franchise.

The partners searched for two years to find the prime DC-area location. Six weeks after opening Which Wich in Ballston, the team is very pleased with their choice. "We had to get used to urban real estate and learn all about traffic patterns and how public transit would make a difference," Lalani said. "Arlington County is so organized and has made it simple for people to get around via bus and Metro, which is critical to businesses in an area like Ballston which has very limited parking. We've been very impressed."
Which Wich - Ballston
5852 N. Washington Blvd., Suite 2
703.566.0058
Transportation Options