Bayou Bakery, Coffee Bar and Eatery
Partner Spotlight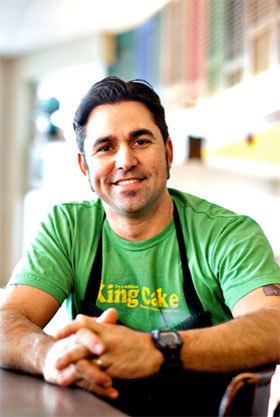 Read more about Bayou Bakery and their Real Food for Kids Initiative in response to COVID-19.
David Guas, Owner
"Everything that is New Orleans, culturally, is wrapped up together when it comes to the beat of the music, food, rituals and traditions," states Chef David Guas, owner of Bayou Bakery, Coffee Bar & Eatery, located a block from the Court House Metro. Guas credits his passion for cooking to his aunts who taught him how to bake pies as a kid. "Today being a professional I'm able to bounce a lot of questions about traditional cuisine in that region because that truly is the Acadiana and Cajun area of Louisiana."
Guas' professional training began at a small cooking school in New Orleans where he learned about savory cuisines including sauces, roux, and consommés. He applied for positions all over New Orleans, but focused on landing a position at the Windsor Court Hotel. "I wanted to go to a hotel because I knew I could rotate through different positions," said Guas.
While there, Guas met executive chef Jeff Tunks who pulled him aside one day and said, "I've got this opportunity to move to DC to open my first restaurant." Guas was invited to come along, and helped open DC Coast in 1998. He helped open three more restaurants with Tunks and his partners before he left in 2007.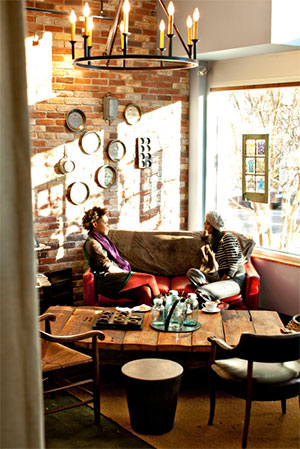 He then wrote his first book DamnGoodSweet: Desserts To Satisfy Your Sweet Tooth, New Orleans Style, released in 2009. After the book he created a business plan focused on having a restaurant that people could visit any time of day. Guas said, "It was really about flavor and about telling a story through our food." Bayou Bakery opened in 2010.
"For me searching on this side of the river was important because I wanted to be close to home." Guas knew his bakery needed to serve more than baked goods to stay open morning through evening. "We do a gumbo, deviled eggs, pimiento cheese sandwich," Guas described. The menu also offers sandwiches, salads, and a number of Southern snacks and small plates. Two popular menu items are the muffaletta sandwich and beignets, the doughnut of New Orleans. "We serve one entrée every night of the week, says Guas." Daily supper specials include red beans and rice, shrimp, chicken, and crawfish cakes.
Guas understands the importance of his location near public transportation. "It's everything. There are hundreds of people walking by, heading to the Metro." As a business owner, Guas explains that having staff who can take the bus or Metro to the restaurant is a big advantage.
Guas is flattered by what Bayou Bakery means to people, especially those from Louisiana or the south. "They walk in and see familiar things. I'll hear people talking about the restaurant outside of here. It's the ultimate satisfaction. Bayou Bakery has really become the people's place."
Bayou Bakery
1515 N. Courthouse Road
703.243.2410
Transportation Options